EVOLUTION OF TECHNOLOGIES
Russia has adapted the European term "PropTech" (Property Technologies) a.k.a. RETech / CRETech (in USA), Real Estech (in France) to refer to the technology vertical which combines modern technologies and solutions in construction, development, built environment and real estate property management.
What makes PropTech industry not only relevant and essential, but vitally important is a general paradigm shift in the modern society, from monolithic structures to more flexible ecosystems of adaptive elements (for example, microservices architecture in IT), as well as a new approach to space management. A growing number of large corporations realize that maintaining a status quo is only possible with timely and proper implementation of modern technologies.
Market leaders in Russia, such as MallTech, Radius Group, EY, to name a few, are eager to share their best practices and understanding of the fact that one can ensure a sustained growth and keep a leading position in the market only if one is keeping up with the time. But the velocity of change in the industry is growing so, that even a strong leadership position can be challenged if a company chooses to follow trends rather than innovate and use foresight. It is important to prepare for changes well in advance.
SOUGHT AFTER GUIDANCE
So, what is PropTech and what technologies are included? Many terms, such as "smart building", "smart city" and "internet of things", applied to built environment, have been around for a while. The PropTech industry includes the whole spectrum of modern technologies and relevant innovative strategic approaches applied in different property segments (commercial, residential, infrastructure, etc.)
Classification of technologies is a dynamic process, because innovations considerably disrupt and sometimes completely change the traditional business practices. As of today, more than 40 professional organizations around the globe are keeping track of innovative solutions in real estate, regularly organize events and help tech startups and their clients – developers, owners, investors and asset management companies. In Russia and Russian-speaking markets these activities are carried out by PropTech Russia, which has a full stack of technologies (the company tracks over 3500 global PropTech solutions) and expertise (experts board of the company includes representatives of real estate leaders in Russia and Europe).
What kind of help is required by real estate market leaders? After the obvious, though not simple choice 'to innovate or die', companies face an even more challenging problem of searching and choosing the right tech solution. The most common problems are lack of competencies with decision-makers, unrealistic expectations ('we want it all and we want it
now') and poor understanding of the market and current trends (often looking for a single solution to solve complex business tasks). As a rule, there is no universal answer. Depending on the property segment, the company's development stage, its current technological advance level and strategic goals, it often needs support in selecting the right combination or a 'stack' of technologies and in implementing them, i.e. training or replacing employees, building the right technology architecture, integration with existing systems.
An evident trend in PropTech is industrial specialization of solutions. The classification, developed by PropTech Russia, is accessible and understandable for stakeholders and it seamlessly fits the business logic of the real estate market. Applied solutions are grouped into a multilevel matrix with three axes: technology, business process and property segment.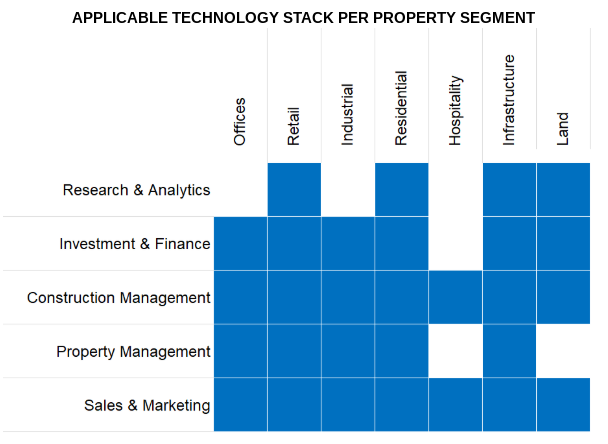 Classification of technologies is based on Gartner approach and generally accepted PropTech terminology. For example: BIM (building information modelling), AVM (automated valuation modelling), AFM (automated financial modelling), AR (augmented reality), VR (virtual reality), AI (artificial intelligence), BMS (building management systems), DMS (data management systems), etc.
TECHNOLOGY SEGMENTS OF RUSSIAN PROPTECH
CLIENT MANAGEMENT
Main objectives: lead generations, targeting and personalization of offerings, marketing automation and client management automation.
Applied technologies: DMS, AI
Scope of application: retail, residential
Main users: developers, owners, management companies
Solution in Russia: BrainSoft
Global solutions: Siebel (USA), Carving (France), Adictiz (France)
INVESTMENT ANALYSIS
Main objectives: financial analysis automation and cash flow modeling on property and portfolio level for investment performance analysis.
Applied technologies: AFM, AI
Scope of application: all real estate segments
Main users: professional investors, portfolio managers, real estate owners, valuers, banks
Solution in Russia: Exquance
Global solutions: Argus Software (USA), eFront (USA), Taliance (France)
VALUATION
Main objectives: automation of residential property valuation to obtain a market price, estimated collateral value for mortgage lending, scoring models
Applied technologies: AVM, AI
Scope of application: residential
Main users: banks, developers, real estate owners
Solution in Russia: FinCase
Global solutions: Sprengnetter (Germany), on-Geo (Austria), 21st RE (Germany), GeoPhy (Netherlands), House Canary (USA), Bowery Valuation (USA), Fuel (USA)
PROPERTY MANAGEMENT
Main objectives: automation and optimization of property management process, including documentation, agreements registers, budgeting and control systems, reporting
Applied technologies: BIM, BMS
Scope of application: all segments of commercial real estate
Main users: professional management companies, real estate owners and portfolio investors, developers, banks, non-core real estate owners, tenants.
Solution in Russia: Lement Pro
Global solutions: Yardi (USA), MRI Software (USA), Qube (United Kingdom)
INTERIOR DESIGN
Main objectives: automation 3D layout generation for virtual and augmented reality for user experience in sales and marketing in residential real estate
Applied technologies: VR, AR, BIM
Scope of application: residential real estate
Main users: developers, real estate agencies
Solution in Russia: Planoplan
Global solutions: RoomHero (Germany), Overgo (France), VRNow (Germany)
CONSUMER RESEARCH
Main objectives: shopping centers analytics, offline to online and back conversion, target
audience clustering for targeted advertising, analysis of tenant mix and loyalty programs management
Applied technologies: Wi-Fi, BMS, DMS
Scope of application: retail
Main users: shopping center owners and tenants
Solution in Russia: NPO Analytica
Global solutions: BazaarVoice (USA), Adipsys (France), Hyperin (Finland)
FORESIGHT
TECHNOLOGY TRENDS
In present-day society people tend to prioritize personal comfort, work-life balance, harmony between the internal and the external world. This is why technologies, designed to help with everyday chores, should be first of all convenient, intuitively understandable and responsive. UX (user experience) is the critical element of every solution, even in a B2B sector, especially when we consider new interfaces of human-machine interaction, such as touch-screens, wireless, virtual and augmented reality etc. Therefore, UX and further personalization of user experience are the main trends in technology development with regards to user interaction.
From backend and platform perspective, the obvious trend is ongoing decomposition of solid monolithic systems (ERP systems, in-house legacy software still operated by some large companies) which are gradually replaced by more flexible hybrid solutions based on microservices. One can forecast further development of technologies, which offer flexible subscriptions for configurable models of cloud services BaaS (Backend as a Service) and PaaS/IaaS (Platform/Infrastructure as a Service).
MARKET OF SOLUTIONS
Technological future of Russian real estate market looks promising, provided the general requirement of fixed assets renewal across industries and growing demand in innovation. Talented teams of technology innovators and entrepreneurs, with hands-on experience in real estate around the country are introducing cutting-edge solutions in many PropTech segments. We forecast further growing demand for complex solutions, which will create an information environment and ecosystem for different services based on BIM technologies. Another apparent trend is the implementation of solutions for consumer data collection and analysis – shopping centers' visitor footfall analytics. Implementation of new technologies for financial and construction control in property development will help to ensure transparency and, therefore, efficiency of business processes, contributing to a decline in corruption on the national real estate market.
Traditionally, many technologies and innovative business models from the West (like Space as a Service in renting of commercial and residential premises, Blockchain/AI in market data, investment and mortgage lending, AVM in valuation, etc.) are introduced into Russian market via 'interpretation' rather than adaptation and localization of a foreign solution (there are very few examples of a successful market entry). We foresee the emergence of the
local Russian equivalents of WeWork, eMoov, Compass, HouseCanary, OfferPad, Niido , etc.
CAPITAL MARKET
Local venture investors actively include the PropTech vertical to the mandate of active and emerging investment funds. A number of private investors are actively scouting most promising industry startups. Foreign investors still keep a neutral position because, despite high interest and market potential, the number of available exit strategies remains limited. South-Asian investors are more interested in Russian PropTech than European funds, who are more focused geographically within the European national borders. But the PropTech hype on capital market is yet to come in Russia. We forecast a considerable growth of investment activities in 2019 and 2020.
EMPLOYMENT MARKET
Russian real estate businesses just started testing innovative technologies. So far, many business processes are duplicated and new ones are launched alongside traditional ones. But we see first examples of discarding old business models with a subsequent headcount optimization. In next 2-3 years we will see a high demand for 'new professionals', like data scientists, drone and robotic machinery operators, etc. It's present reality that many repetitive and mundane tasks are automated and require less human involvement to reach the same or better result. Worth to note, that the personnel reduction does not always concern only the blue collar jobs.
COMMUNITY AND EVENTS
In 2018 main business platforms in real estate around the globe increased focus on the emerging PropTech scene. For example, Reed MIDEM, the organizer of MIPIM – a global real estate exhibition traditionally taking place in Cannes, had organized a targeted two-days event MIPIM-PropTech in Paris in June 2018. The German counterpart, Expo Real in Munich in October, for the second consecutive year hosts the REIN (Real Estate Innovation Network), a designated platform focused on PropTech. Many countries are arranging national platforms to facilitate networking in PropTech market.
Russian PropTech community is actively formed by PropTech Russia with support from EY. PropTech Russia organizes events of different scale, such as roundtables, focused on a particular technology sector (for example, innovations in retail, development and sales, property and facility management, etc.), as well as national and international conferences together with global and federal partners. For example, this year PropTech Russia organized Eurasian summit on innovations in real estate together with EY and Innovation forum in MAPIC Russia together with Reed Exhibitions. Other notable events in Russia which bring together real estate and technology are Property Technology Innovation at ProEstate 2018 and Hi-Tech Building in Moscow.