Written by, Robin Rivaton from RealEstech, The leading French PropTech association.
Real Estate is at the very heart of the French economy.
The construction sector accounts for 6% of the GDP and real estate services for almost 13% (*1) . It represents 2 millions of job. Furthermore, public spendings to support housing and building reach $51bn (2% of the GDP). Besides, lots of French company are now global players. In the construction field, Bouygues and Vinci are part of the ENR Top 10 International Contractors (*2) in which companies are ranked according to construction revenue generated outside of each company's home country. Bouygues and Vinci notably rely on strong positions in Europe and Asia. Created in 1968, the shopping centers owner Unibail has bought Dutch asset management group Rodamco in 2007 and Westfield in 2018, which operates 35 shopping centers in the US and the UK, for a reported price of $25bn. Unibail-Rodamco-Westfield is now the second largest malls owner in the world with a $53bn portfolio, just behind Simon Property Group. Last but not least, Paris-based Gecina is the largest office REIT in Europe.
Productivity Levels
Unfortunately, the French real estate sector suffers from an historical lack of productivity gains and a poor customer service. In the construction industry, the productivity declined by 15% between 1995 and 2015, similar to Spain and Italy (*3) . McKinsey (*4) considers France as "Declining leaders" as the construction laborproductivity in high but the labor-productivity growth is negative. United States and Japan are also considered as declining leaders, unlike Belgium and Israel which combine high productivity and strong growth of it. This situation is due to a lack of investment in R&D. For example, only 10% (*5) of construction companies use cloud computing services versus 22% for the whole economy. Regarding the real estate services, the sector suffers from a bad customer service. Majority of multi-family buildings are owner-occupied and managed by a joint-property manager. Less than one client out of two is satisfied with the service (*6) .

Market Opportunity
Bad quality and high-prices have created a market opportunity. Lots of startups have been entering the real estate market in the last 4 years. Crowdfunding platforms, investment management software's providers, augmented reality tools suppliers, there are currently more than 400 real estate startups in France. Beyond the numbers, the background of the founders are changing. Between 2013 and 2015, the founders of real estate startups were mainly students or fresh graduates. Then, since 2016, the founders are mainly former real estate professionals with a strong experience in the industry. This second generation is more focused on BtoB business. Among these 400 startups, about one quarter have raised seen money in the last 3 years and 8 of them have raised more than 5 millions euros (see the tab below). After years of doubt, the main venture capitalists are now investing in real estate startups. For instance, the leading European Idinvest has lead HabX $12M series A. HabX is a crowdbuilding platform that helps developers to meet the clients expectations regarding personalization of the apartments. IDInvest has also co-invested into Meero (AIpowered image and video provider) alongside Alven Capital.
Some serious investment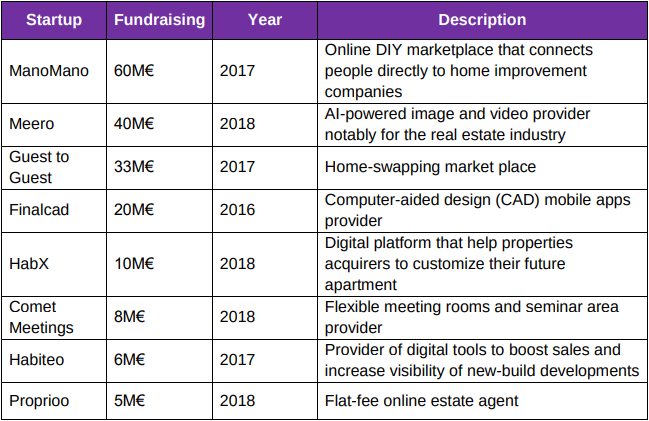 Ones to watch
Some other French real estate startups are very promising. Workwell (also known as Never Eat Alone) is an office app giving access to all the services available in the workplace, making life at work easier and communicating between colleagues. WeMaintain is a marketplace that connects property managers with independent lift technicians. The clients want to lower the costs of the maintenance and to have greater transparency on delays and fees. Liberkeys (flat-fee online estate agent), Deepki (energy-centric building management platform) and Pretto (mortgage provider) are also startups to follow in the coming months. The rise of real estate startups is strongly supported by the government. National authorities soften the construction laws and real estate regulation to encourage innovation. French real estate startups are now fully integrated into the "French Tech". As president Macron could have said "French real estate entrepreneurs are back!".
Check out other regional updates on the FPT Blog